I have had quite a few moments this week,
the RAW Stimulus art event invitation
has been a really inspiring moment which birthed new paintings in the works (and many more ideas swimming around in my head) but, today I'm going to write about my time in Sedona.
My husband and had a two night getaway in Sedona to celebrate his Birthday and Valentine's day. My mother in law graciously stayed with the kids while we took off for some time together. Sedona is a beautiful place to visit and I am grateful we live close enough to enjoy taking day trips there. The red mountains never fail to calm and center me. I am in awe of them and even question their existence sometimes, often saying to Bert that the mountains look like a fake backdrop. As if, my mind can't wrap its head around such beauty. But their she is, mother nature in all her glory.
We had a fabulous time at the
Lodge at Sedona Luxury Bead and Breakfast
and
Sedona Rouge Hotel and Spa
. Why two places? Well we followed the deals as "they" say. We found a smoking deal for Sedona Rouge that included an hour couples massage, breakfast and morning yoga. We were all over it. However the deal was not valid over the weekend so, we booked it for Monday night and looked around the Oak Creek Canyon for Sunday night, as I had a strong desire to be in the trees and by the creek. We had never stayed at a Bed & Breakfast and were not really sure if we would like it but, Bert stumbled upon the Lodge at Sedona online and this place looked great and they had a wonderful winter deal for Sunday so, we decided to give it a go. It was only one night so, why not try it. Well, we loved it! It was really private and just what we wanted.
Side of the Lodge were our room was.
The drive up was great. I love when you get out of the city and everything is opens up, makes space and you begin to decompress. We got to Sedona and had time to kill before our room at the B&B was ready. We walked around downtown, had lunch and wondered into a couple of galleries. Time was moving wonderfully slow. As it started to rain lightly we decided to go head to The Lodge. It is set back from the road and is surrounded by trees so, it had the quiet, woodsy vibe I was looking for. The decor is mission style with lots of warm wood, stained glass and wrought iron details. I loved it as soon as we got there. Our room was spacious yet cozy. We had a fireplace and sitting area, our own bath and a private patio. There was a fountain right outside the bedroom window which was so lovely to listen to. Only a few rooms were occupied on Sunday night so, it was really relaxing and quiet.
Me on my second walk around the Labyrinth.
The Lodge was the perfect place to unwind and just hang with Bert. We both enjoyed a trip around the Labyrinth. It was interesting and soothing. The idea that there is one way in and one way out that wind around and you just follow it really quiets the mind. (Do you see a theme here? Ah peace and quiet). We ended the evening with a wonderful meal at
Dahl & DiLucia
. Handmade pasta, delicioso!
Monday morning we had a wonderful gourmet breakfast at The Lodge before heading off to Sedona part two. We drove up towards Oak Creek Canyon. Stopped for a short hike. It was still cold and rainy so, we kept the outdoor exploring to a minimum. We had healthy and hearty lunch at the organic eatery
ChocolaTree
. They had tarot cards on the table to play with which was fun. My card of the day was "Passion" and Bert's was "Higher Knowledge."
We checked into Sedona Rouge and within the hour headed down to the spa. We got there 30 minutes early to relax and use the steam room before having a deep tissue massages next to one another. Bliss. Afterwards I used the steam room once more before we retreated to our room for the rest of the night. the next morning, I went to the morning yoga class at the hotel's spa. Ah ... it was so nice. Then, we had breakfast and stopped at a thrift store for some hunting before driving home.
It was a fabulous trip. I love my valentine. I love how much fun we have together, how easy it is to be with him and how much adoration we have for one another. We are lucky in love. xoxo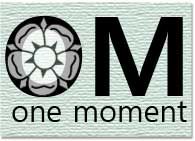 One Moment [OM] is a weekly meet up that promotes living in the moment. Whether funny, sad, ridiculous, or banal, looking for these moments can promote balance in our lives. Anyone can join – read about it
here
.