My endearing husband pushed me to treat myself. We are going away for two nights without the kids this weekend and he wanted me to do something for myself before we go. All last week he asked me if I wanted to get my haircut (since I have been saying that I wanted to cut my hair for a few months now) or if I wanted to get my nails done (I think my last pedicure was in the summer, yikes!). Both were obviously tempting but, I am down right frugal about treating myself. I responded that I was okay and that we should just save the money for our trip instead.
Well, his birthday is this Monday the 13th and a friend gave him a card with some birthday cash. Do you know what he does with it? He gives it to me and tells me to treat myself. When I hesitated, he headed over to Groupon and found me a deal on a haircut at
Green with Envy
, an organic hair salon. This was an offer I just couldn't refuse, that is right up my alley so, I jumped on it. I got my hair cut into a short bob and it looks and feels so light and healthy! Plus, I look a lot like I did when we first met so, he really likes my new 'do. I am one lucky girl to be married to my man, Bert. I am grateful for his love and kindness and am really so looking forward to our romantic getaway this weekend!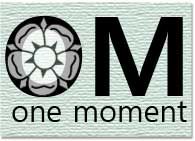 One Moment [OM] is a weekly meet up that promotes living in the moment. Whether funny, sad, ridiculous, or banal, looking for these moments can promote balance in our lives. Anyone can join – read about it
here
.