This cactus looks like my stomach felt - Phx Desert Botanical Garden
So after a very nice week of hitting the trail each morning my OM moment was being hit with stomach pains for 5 days. Out of nowhere I felt my stomach swell and a pain emerge on my right side and lower back. It was a pain I had once before, while vacationing in New York this past June. I thought the pain was from too many protein bars while traveling but, alas no protein bars where had leading up to this past Saturday. I found out that I have a family history of gallbladder issues and I think I am experiencing them too. On Sunday I started researching online and I found gallbladderattack.com. It has a wealth of diet information. Bert ran out for beets for me to eat to help my pain and it worked so, now I'm trying to change my diet to be gallbladder friendly. According to the website I should avoid eating greasy fried food, meat, dairy and gluten. Yikes!
I finally started feeling better Wednesday night and by Friday I was back to eating 3 meals. I am currently meat and dairy free. On a positive note, I lost 4 pounds this week making my total weight loss 6 lbs in 2 weeks. Sweet! I picked up a vegetarian cookbook at the library and made my first meal last night ... potato and peas in red curry sauce ... yum! If you have a veggie recipe you love, please share it with me. I'd love to try it.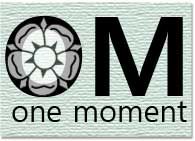 One Moment [OM] is a weekly meet up that promotes living in the moment. Whether funny, sad, ridiculous, or banal, looking for these moments can promote balance in our lives. I decided to join in the fun. You may want to too – you can read more about it
here
.