My one moment this week was at the majestic Grand Canyon. Bert and I traveled north for an early celebration of our 10th wedding anniversary. Despite living in Arizona for 13 years neither of us had been and thought it was about time we went. It was magnificent. Truly a wonder to behold. I felt so tiny and insignificant in the presence of this massive canyon with its layers of time preserved in the rock. Sure puts things in perspective. My husband and I laughed at my ever increasing deep conversations that had us pondering everything that came to mind at that time and space.
I have much to be grateful for ... the cancellation at the historic El Tovar that allowed us to get a room right on the canyon at the last minute, my mother in law for watching the boys and our dog Chloe, the beautiful road trip Bert and I took there with stops for breakfast in scenic Sedona and lunch in downtown Flagstaff, and mostly for the soulful and loving memories the canyon brought to us in celebration of our 10 years together.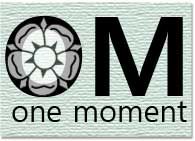 One Moment [OM] is a weekly meet up that promotes living in the moment. Whether funny, sad,
ridiculous, or banal, looking for these moments can promote balance in our lives. I decided to join in the fun. You may want to too – you can read more about it
here
.