We picked up a "new" old couch for the boys playroom at a rummage sale two weeks ago so, we reorganized the room and added art to the walls. I had a large frame (about 2ft x 3 ft) with a cardboard backing that was sitting in the garage.I pulled out the paints and let the boys paint away. At first they each had there own idea of what should be on the painting and they were pretty far off from one another so, instead of battling who paints where and what I suggested they create an abstract painting. They both knew the term from my art masterpiece visits in school so, excitedly they both agreed "to create nothing".
They worked on this piece very cooperatively. It was a nice calm painting session where the only rule was to have fun and use all the colors.
The finished artwork is about 2ft x 3ft and hangs in their playroom. I love putting my kids art on the walls and especially love when they create with that purpose in mind. I think seeing your artwork displayed at a young age makes it easier to imagine when you get older and I want my kids to feel like their art is always worthy of being displayed.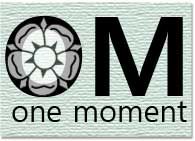 One Moment [OM] is a weekly meet up that promotes living in the moment. Whether funny, sad, ridiculous, or banal, looking for these moments can promote balance in our lives. Anyone can join – read about it
here
.