My OM this week is taking the time to explore a community trail. Trails that meander through our community are a nice perk that I have not taken advantage of until now. You see, I cancelled my gym membership this month and not having my zumba and yoga classes readily available has made me a little anxious (especially since I packed on some unwanted pounds this summer) so, I came up with a plan. After the kids get on the bus for school I would to take a walk, every day. I decided to make the trail closest to our home my first destination. I walk to it, then do interval running/walking while on the trail and walk home. It takes about 30 minutes and has been really great to be outside each morning while its a cool 90 degrees. ;)
The quiet trail has been a destination I look forward too. I was sad about leaving my gym classes but, in hindsight I had become pretty comfortable and the shake up in my workout is just what I needed to re-motivate myself and I shed 2 lbs! Plus, I have been seeing bunnies each morning and they make me smile.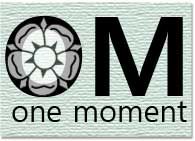 One Moment [OM] is a weekly meet up that promotes living in the moment. Whether funny, sad, ridiculous, or banal, looking for these moments can promote balance in our lives. I decided to join in the fun. You may want to too – you can read more about it
here
.