Friday was moving day! It is crazy to see all our stuff boxed up and waiting to move. I have been de-cluttering and simplifying for almost 2 years and I have to say I was pretty surprised to see how much stuff we have now that's all in one place and it's a lot more then I thought! For my one moment today, I will say goodbye to our current home and welcome in our new one.
We moved in to our current home when my youngest son was 6 months old and my oldest was 3. This house has been such a blessing to us. The open floor plan gave us visibility to everything which is great with little ones toddling around. The room we designated as the kids playroom was open to the kitchen, dining room and den and has been just perfect. The circular skylights in the great room allowed so much natural light into our home that we rarely had to turn on the lights during the day. And on the rare occasion of a cloudy day the whole house would darken and lighten with each passing cloud and that is such a strange and magical feeling to have inside your home. The laminate wood, tile floors and wood blinds throughout made the home much more comfortable for our allergenic family then the heavy curtains and wall to wall carpeting we had previously. It also made for easy cleanup when doggies made messes, things spilled, play dough was sculpted or we had an art play day. The sizable yard gave us ample space to play and entertain. The huge garage allowed me to carve out a little art studio of sorts and that has made me really happy. And lastly the community has been excellent. It is beautiful, well-kept with lots of amenities we have loved like pools, playgrounds, trails and tennis courts. Goodbye wonderful home, we thank you for the memories!
In our new rental home I welcome the intimate space and the cozy den feeling my husband and I grew up with. I welcome the kitchen being slightly out of the way so, I hopefully can't see any unfinished business in there as I'm relaxing on the couch. I welcome carpeting back in our life to help with sound control (two young boys can be pretty loud)! I welcome our first ever doggie dog for our golden retriever Chloe. I hope she loves it as much as we do :) I welcome a playroom with a door and full walls - again to help with sound control, haha. I welcome a sweet little backyard with enough space to play but not too much to manage. I welcome the really pretty patio tile and fans to relax on. I welcome the pretty mountain view outside our front door that I will see every time I come and go. I welcome us home.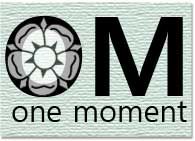 One Moment [OM] is a weekly meet up that promotes living in the moment. Whether funny, sad, ridiculous, or banal, looking for these moments can promote balance in our lives. I decided to join in the fun. You may want to too – you can read more about it
here
.